Perfil de aluminio de puerta y ventana para Perú Market
Aleación o no:
Es aleación
Aplicación:
Puerta y ventana
Lugar del origen:
Guangdong, China
Material y Temple:
La aleación 6063-T5/6061-T6
Color:
Blanco, negro, marrón, crema, dorado, personalizado
Espesor:
0,3mm-20mm, o personalizado
Longitud:
≤6,8 m, disponible personalizado
Tratamiento de superficie:
Acabado de molino, Recubierto de polvo, Anodizado, Electroforesis, Pulido
Mecanizado:
Mecanizado CNC de alta precisión
Proceso profundo:
Corte preciso, perforación, fresado, fabricación
Característica:
Alta calidad, anti-arañazos, anti-deformación
Estándar de calidad:
GB 5237-2008
CONTACT NOW
También podemos producir perfiles de acuerdo con los requisitos del cliente, como dibujos y muestras, y cumplir con los estándares GB, ASTMB y EN.
Nuestros productos se han vendido a mercados extranjeros, incluyendo Filipinas, Nigeria, África del Sur,
Ghana, Zambia, Vietnam, Alemania, Italia, Francia, Reino Unido, Holanda, Bulgaria, Eslovaquia, Nueva Zelanda, Chile, Brasil, Dominica, Turquía, Pakistán, Kuwait, EAU, Singapur, Indonesia, India, Etiopía, Argelia, Tailandia y etc..


Packaging Details
PE film for each profile/ Shrink PE film for each bundle, Slot packing, Craft paper/ Foam Paper/Carton box
Product Detail
Material & Temper
Alloy 6063-T5,6061-T6 , We will never use aluminum scrap.
Surface Treament
Mill-Finished, Anodizing, Powder Coating, Electrophoresis, Wood Grain, Polishing, Brushing, etc.
Colour
Silver, Champage, Bronze, Golden, Black, Sand coating, Anodized Acid and alkali or Customized.
Film Standard
Anodized:7-23 μ , Powder coating: 60-120 μ , Electrophoresis film: 12-25 μ.
Lifetime
Anodized for 12-15 years outdoor, Powder coating for 18-20 years outdoor.
MOQ
500 kgs. Usually 10-12 tons for a 20'FT; 20-23 tons for a 40HQ.
Length
5.8M or Customized.
Thickness
0.4mm-20mm or Customized.
Application
Building and Construction and Decoration.
Extrusion Machine
600-3600 tons all together 6 extrusion lines.
Capability
Output 1200 tons per month.
Profile type
1. Sliding window and door profiles;
2. Casement window and door profiles;
3. Aluminum profiles for LED light;
4. Tile Trim Aluminum profiles;
5. Curtain wall profile;
6. Aluminum heating insulation profiles;
7. Round/Square General profiles;
8. Aluminum heat sink;
9. Others Industry profiles.
New Moulds
Opening new mould about 7-10 days, absolutely moulds cost can be refund.
Free Samples
Can be available all the time, about 1 days can be sent.
Fabrication
Die designing→ Die making→ Smelting & alloying→ QC→ Extruding→ Cutting→ Heat Treatment→ QC→ Surface treatment→ QC→ Packing→ QC→ Shipping→ After Sale Service
Deep Processing
CNC / Cutting / Punching / Checking / Tapping / Drilling / Milling
Certification
1. ISO9001-2008/ISO 9001:2008;
2. GB/T28001-2001(including all the standard of OHSAS18001:1999);
3. GB/T24001-2004/ISO 14001:2004;
4. GMC.
Payment
1. T/T: 30% deposite, the balance will be paid before delivery;
2. L/C: the balance irrevocable L/C at sight.
Delivery time
1. 15 days production ;
2. If opening mould, plus 7-10 days.
OEM
Available.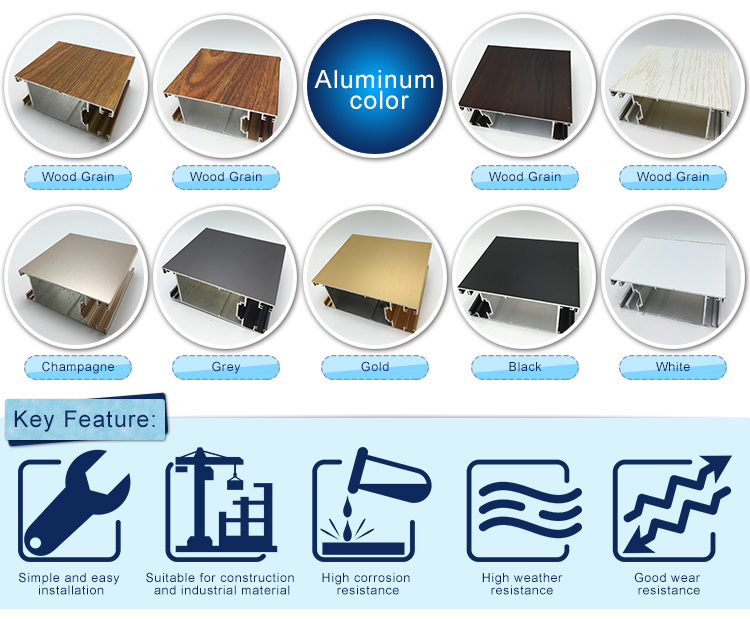 Table of Chemical Composition of Aluminum Alloy
Alloy
Si
Fe
Cu
Mn
Mg
Cr
Zn
Ti
Impurity
Al
Unit
Total
6063
0.2-0.6
<0.35
<0.1
<0.1
0.45-0.9
<0.1
<0.1
<0.1
<0.05
<0.15
Surplus
6061
0.4-0.8
0.7
0.15-0.4
<0.15
0.8-1.2
0.04-0.35
<0.25
<0.15
<0.05
<0.15
Surplus
6005
0.6-0.9
<0.35
<0.1
<0.1
0.4-0.9
0.1
<0.1
<0.1
<0.05
<0.15
Surplus
6060
0.3-0.6
0.35-0.6
0.1-0.3
<0.1
<0.1
<0.15
<0.05
<0.1
<0.05
<0.15
Surplus
Envíe una consulta